Breakthrough Solutions Based on Science and Available Technology
H.E.L.P.® gives oncoming drivers significant Advanced Warning of disabled and vulnerable vehicles on the road ahead.
ESS' Hazard Enhanced Location Protocol (H.E.L.P.®) is designed to provide highly conspicuous lighting and digital communication using existing vehicle lighting systems and equipment-agnostic traffic data platforms.
Unchanged since 1951, current hazard flash rates of 1.0 - 2.0 Hz were established under the limitations of legacy incandescent bulbs and control relays rather than Human Factors science.
H.E.L.P.® combines LED lighting, electronic control and digital alerts to enable intelligent emergency communications unachievable with 20th century technologies.
H.E.L.P.® Emergency Mode can be deployed via both automatic and manual activation.
H.E.L.P.® auto-deploys when conditions indicate a safety need, such as when a collision or airbag sensor is triggered, a tire blowout, or during an Automated Driving System "takeover".
Drivers can also activate Emergency Mode manually if the vehicle is in Park or has the Parking Brake engaged. Manual activation is available via smart Screen Control or a secondary button near the vehicle's hazard light button.
Simple, Low-Cost Implementation
H.E.L.P.® is a regulatory compliant software-based solution, which utilizes existing vehicle hardware and lighting systems.
Implementation requires minimal, low-cost updates to new vehicle safety, lighting controls and telematic systems.
Since many vehicles already have LED turn signals, in most cases, no hardware upgrades are required.
Julian Dench, ESS Executive Director of Technical Business Development, shares key details regarding how H.E.L.P.® makes disabled vehicles dramatically more visible, how it's activated, as well as ease of implementation and automaker adoption.
Safety for the Connected Vehicle
Digital Alerting has been shown to reduce hard braking events by a staggering 80%. When H.E.L.P.'s Emergency Mode is activated, digital alerts and notifications are automatically communicated to approaching drivers via traffic data and OEM cloud providers. In certain events, such as an airbag deployment, emergency responder channels are also notified with the information they need to respond efficiently.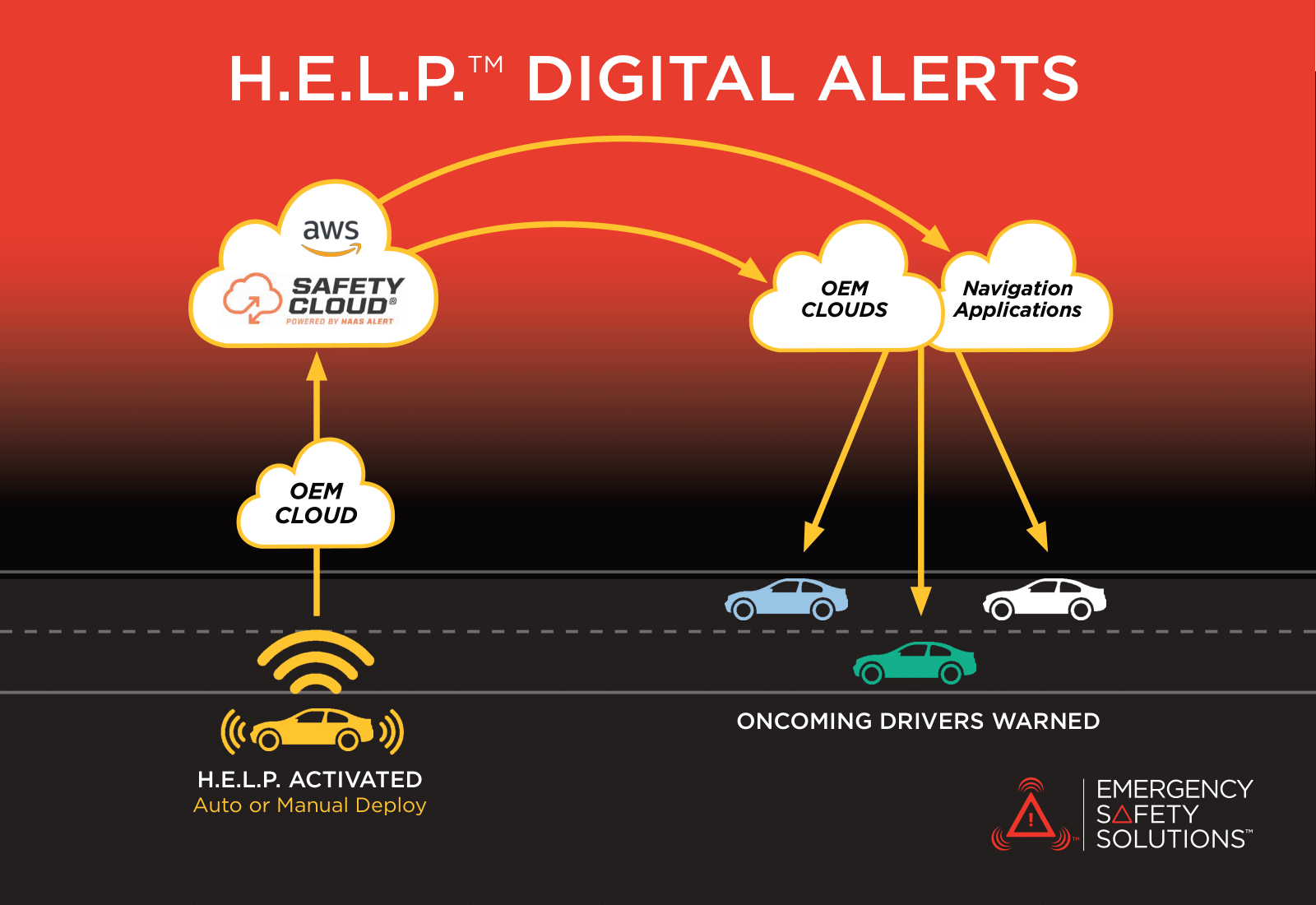 H.E.L.P.® Technology License:
Standardized and Accelerated Implementation of Life-SavingTechnology
ESS licenses its lighting and digital communications technologies to automakers in order to efficiently deploy the H.E.L.P. solution across all vehicle makes and models, globally. The result will be a common, globally understood warning to drivers when they are approaching a vulnerable vehicle ahead - giving them ample advanced warning so that they can slow down, move over and safely avoid disabled vehicles and their occupants.
The ESS H.E.L.P. Technology License specifies safety communication features that are tuned for optimum effectiveness, while maintaining compliance with regulations and traffic laws.
ESS chose a business model and regulatory strategy rooted in voluntary adoption to accelerate automaker implementation of H.E.L.P. solution so that, together, we could immediately start saving lives and reducing injuries. The risk to drivers and passengers of vulnerable vehicles sitting stationary on or alongside roadways is far too great to wait for new government regulations and mandates (which can take up to a decade to develop) to solve this growing safety problem.
Our goal to get H.E.L.P. on the road as quickly as possible is bolstered by the fact that deployment of H.E.L.P. typically requires minimal to no changes to existing vehicle lighting and telematics architecture. In many cases, H.E.L.P. solution implementation requires nothing more than updates to lighting, head unit and telematics firmware.
Globally Patented Technology
The ESS H.E.L.P. solution is covered by a robust, open and growing patent portfolio of more than 100 granted and pending patents around the world, including the U.S., Canada, Japan, China, Korea, Australia and all member states under jurisdiction of the European Patent Convention.
Our globally-granted, foundational patents cover the use of existing vehicle signal lights (e.g., turn signal, brake lights, etc.) at flash rates which are perceptively faster than ordinary hazard warning flash rates - to vastly improve the conspicuity of vehicles that are stopped on or alongside roadways.
We also have granted and pending patents that cover:
Use of additional lights to supplement the enhanced hazard warning system.
Auto-deployment of the H.E.L.P. solution upon certain triggering events such as a significant crash and other vehicle-disabling events.
Digital alerts transmitted from vehicles involved in a hazardous situation, using the existing communications infrastructure, to a manufacturer-agnostic cloud service, where the alerts are processed and forwarded to vehicles approaching a hazardous situation to provide over-the-horizon (beyond line of sight) advance warning of vehicles creating hazardous conditions on or alongside the roadway ahead.
H.E.L.P. nuisance control features.
Synchronized accessories.
Click Here for a listing of ESS patents by family.